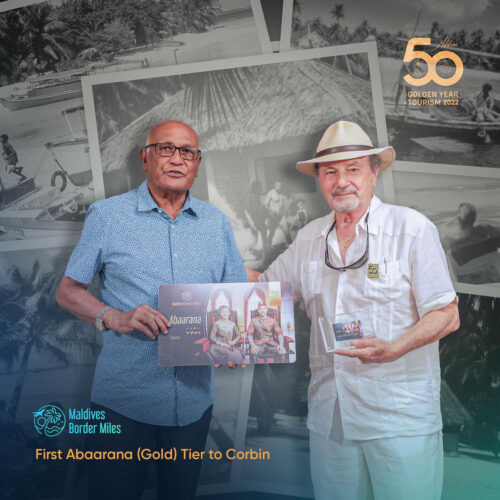 ⌈
Maldives Border Miles Presents it's First Gold Tier ⌋
Maldives Border Miles Presents its First Abaarana (Gold) Tier to Mr. George Corbin
Mr. George Corbin and his daughter, Ms. Georgia Corbin, departed from Maldives on 20th February.
During his 6-Days visit, the tourism pioneer participated in various activities held to celebration
of the Golden Jubilee Year of tourism in the Maldives. He was seen off by honorable,
Minister of Health, Mr. Ahmed Naseem, Deputy Minister of Tourism, Mr. Assad Riza and Ministry of Tourism team.
Before their departure, Mr. Corbin, and his daughter Georgia Corbin, were presented the very first
Abaarana (Gold) Tier of the Maldives Border Miles. The prestegious Abaarana Tier was presented to
them by the Minister of Health, Honorable Ahmed Naseem, during an exclusive event held at
the VIP Lounge of the Velana International Airport.
Ambassador of Japan Courtesy Call on Minister of Tourism
The newly appointed ambassador of Japan to the Maldives, H.E Takeuchi Midori paid a courtesy call on the Minister of Tourism, Dr. Abdulla Mausoom on 21st February 2022. Second Secretary of the Embassy of Japan, Mr. Fukuoka Shuto was also in attendance during this meeting. Discussions were focused on the tourism cooperation between the two countries.
Shaviyani Atoll Council Meets Minister of Tourism
On 21st February, Shaviyani atoll council president, Mr. Mohamed Shiyam and council members met the Minister of Tourism, Dr. Abdulla Mausoom and the Ministry's Tourism Localization and Diversification team. Discussions were focused on local tourism development opportunities in the island. Minister Dr. Mausoom also provided an update on the Shaviyani tourism development.
MMPRC and JTB Media Retailing Hold Webinar for the Japanese Market
Maldives Marketing and Public Relations Corporation, (MMPRC/Visit Maldives) participated in the Travmedia's International Media Marketplace (IMM) held in Australia from 17th to 18th February 2022. This leading global networking event helps connect the travel industry with top journalists, editors, influencers and broadcasters. The country's participation in this event aims to assist the destination to increase future bookings and arrival figures from Australia and New Zealand.
Maldives Participates in Travmedia's International Media Marketplace
On 22nd February, MMRPRC, along with Japanese tour operator, JTB Media Retailing, held a webinar to revitalize and maintain the Maldives brand presence in the Japanese Market. The webinar was attended by 120 viewers, destination presentation, live session from the sponsor property and a Q&A. The purpose of this webinar was to promote the Maldives to the Japanese Market.
TOURIST ARRIVALS STATICTICS TO MALDIVES
Total Arrivals 2019
1,702,887
As at end of December
Total Arrivals 2020
555,494
As at end of December
Total Arrivals 2021
1,321,932
As at end of December
Total Arrivals 2022
251,339
As at 23rd February 2022
COVID-19 CASES & VACCINATION UPDATE
COVID-19 Case Updates
as of 23rd February 2022
Tourist COVID cases as a % of total Tourist Arrivals
(15th Jul 2020 – 23rd February 2022)
0.19% 2020 (15 July – 31 Dec)
0.30% 2021 (1 Jan – 31 Dec)
0.54% 2022 (1 Jan – 23 Feb)
Vaccination Updates
as of 22nd February 2022
MALDIVES TOTAL VACCINATED
RESORT EMPLOYEES % VACCINATED